Webinars
Integra members around the world can gain professional knowledge and credits through live and recorded webinars.
Featuring International CPA specialist presenters, each practical course is carefully crafted to highlight and discuss the most current and relevant tax information. Registrants can count on taking away multiple action points and detailed source material for future reference.
2018 Schedule
September 27th, 2018 – Taxation of Cryptocurrency:  A Brave New World- presented by Stephen J. Turanchik, a Lawyer with Paul Hastings LLP
Mr. Turanchik's practice focuses on tax litigation at the state and federal levels as well as tax controversy work at the administrative levels.
Mr. Turanchik previously litigated for six years for the U.S. Department of Justice, Tax Division, Civil Trial Section out of Washington, D.C. Mr. Turanchik has substantial litigation experience. During his tenure with the Tax Division, Mr. Turanchik handled hundreds of tax cases in federal, bankruptcy, state, and probate court. He received an Outstanding Attorney award from the Tax Division in 2003.
October 4 – Zero Inbox / Email Management – presented by Laurie Daschuk
Email is simple, but it's not easy!  …a presentation for busy professionals
You've got Email and the challenge of keeping up is getting worse, not better. The average email user is spending 28% of their working day on email. That's 13 weeks of their year! Clearly, one can gain advantage from improvements that get you off email and on to work that is more valuable.
This lively and engaging management level workshop is designed to teach and reinforce the best of the best email practices.
Learn how top Business Leaders manage their email and thrive in the workplace.  You can too!  Zero Inbox is a 1.5 hour webinar that will teach you how to overcome email overload and how to gain control of your inbox.
 Zero Inbox – the three main parts:
Get Control of Your Work Flow
A Systematic Way to Tackle Your Email
Create a Healthy Email Culture
Join Laurie for a fun and interactive presentation, focused on achieving email mastery, confidence and work-life balance.  You will also see improved results in workplace engagement and team communication.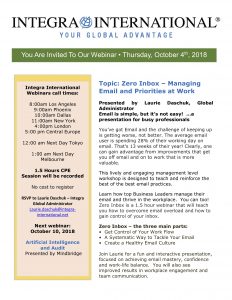 October 10 – Artificial Intelligence and Audit – presented by MindBridge
November TBA – The Tax Cut & Jobs Act (TCJA) Impact of Business Valuation – presented by Don DeGrazia
December 18 – International Tax – presented by Isabel Goldberg
Past Webinars….
*RECORDINGS For The Webinars Below Are Found in the Integra Interactive Library (Members Only Area)
September 13th, 2018 – Practical Considerations for Implementing New U.S. and Global Revenue Recognition Standards – presented by Steve Austin – Swenson Advisors
May 2nd, 2018 – Cannabis Appraisal & Financial Management – presented by Ron Seigneur – Seigneur Gustafson LLP
April 26 – Spanish Webinar – Precios de Transferencia en América Latina
March 6, 2018 – The Taxation of Owning Real Estate in the UK presented by Tim Cook – Wilder Coe Ltd.
February 9, 2018 – Topic: Qualified Business Income Deduction – QBID
January 16, 2018 – FASB Update on Nonprofit Accounting Standards(ASU 2016-14)Presented by Bill Sims and Bridget Losa with 

Salmon Sims Thomas & Associates, PLLC

November 13, 2017 – Lease Accounting
Presenters  Steve Austin, CPA   Swenson Advisors, LLP , Marion Adams, Swenson Advisors, Don Mitchell, Cresa and Simon Terry-Lloyd, Cresa         Click here to Download Flyer.
September 28, 2017 – Exit Taxation
Presented by Franz Schweiger, Managing Partner/Director, BF Consulting Wirtschaftsprüfungs GmbH
 
A recap of the best content from the September 2017 International Tax Conference in Malta. Click here to Download Flyer.
June 8, 2017 – Business Valuation – An Intermediate Look
Presented by Don DeGrazia, CPA/ABF/CFF and Kristen Matkowsky, CPA, Gold Gerstein Group LLP2 hours CPEBusiness valuation continues as one of the fastest growing and most lucrative niches for accounting firms. Developing in-house capabilities or working with other Integra members with a valuation skill set can be economically rewarding and diversify the services your firm offers. Join in for our first webinar as two experienced valuators explore the many aspects of valuation. Questions will be taken throughout the presentation. Comprehensive materials will be available to participants.
---
Register for Webinars by contacting our Global Administrator

Laurie Daschuk
Global Administrator and Meeting Planner
Email Laurie Daschuk
+1 604 309 2533 (UTC-08:00)
Vancouver, BC, Canada