Webinars
Integra members around the world can gain professional knowledge and credits through live and recorded webinars.
Featuring International CPA specialist presenters, each practical course is carefully crafted to highlight and discuss the most current and relevant tax information. Registrants can count on taking away multiple action points and detailed source material for future reference.
2018 Schedule
January 8 – 2pm UK /3pm Central Europe / 9am   New York
Webinar Description
In today's world, social media has become increasingly important in the way we conduct business and grow our careers.
Staying connected with current and potential business partners via social media is the new norm.
If you don't feel comfortable using social media, or don't really know where to start, this webinar is for you.
Integra's social media team will be going over the basics of how to open and operate a LinkedIn, Twitter and Facebook account.
This introductory session is going to cover all the basics to get your social media life started.
Presented by Lorenzo Lancaster, Barabino & Partners, USA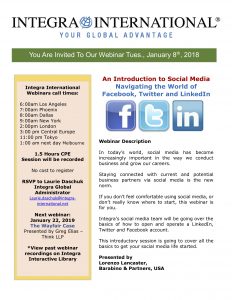 January 22 – The Wayfair Case – presented by Greg Elias / Think LLP – 10am PST 1pm EST
Most CPAs are now familiar with recent WayFair U.S. Supreme Court case which dramatically overturned the historical nexus standard of physical presence for sales tax.  Now remote / internet sellers very well be may be liable to collect and remit sales tax in every state where their customers are physically located.
While the Wayfair decision clearly has an impact on sales tax collection / remission, the case requires many taxpayers to revisit their state income & franchise tax nexus positions as well.  The Court clearly stated that physical presence is not a necessary element for "substantial nexus".   The ruling has many states looking to magnify their authority over online sales taxation and pursue income/franchise taxes in the same way they can now require collection of sales taxes.    Taxpayers now have to reconsider whether they're now liable in states where they do business but don't have physical operations!  Most agree it is not likely states will apply sales taxes in prior years.   Some states with economic nexus laws, however, may very well proceed with pursuing income taxes in prior years.
Companies must also address the financial statement impact of this case.   For example, this past July, Wells Fargo took a related $481m tax charge because of the Wayfair decision.  "Because of the ruling, some Wells affiliated entities may be considered to be subject to state income taxes even if they aren't physically present in a given state", John Shrewsberry, Wells' CFO, said on an earnings conference call.
Think, LLP's Indirect Tax Team has developed a Virtual Nexus Questionnaire and Solution Database of state-by-state laws, rules and cases that will yield a turn-key nexus solution plan for clients.  We provide this initial client analysis at no cost.  Clearly clients have risk and exposure to understand and address.  Our Team consists of attorneys and CPAs that are experts in dealing with the various state taxing authorities to help clients be ahead of the game, including negotiated settlements, amnesty and voluntary disclosure positions.
Past Webinars….
*RECORDINGS For The Webinars Below Are Found in the Integra Interactive Library (Members Only Area)
November 20 – The Tax Cut & Jobs Act (TCJA) Impact on Business Valuation – presented by Don DeGrazia

November 7th – Demystifying Artificial Intelligence and the Impact on Auditing, 

presented by John Colthart at MindBridge
September 27th, 2018 – Taxation of Cryptocurrency:  A Brave New World- presented by Stephen J. Turanchik, a Lawyer with Paul Hastings LLP
September 13th, 2018 – Practical Considerations for Implementing New U.S. and Global Revenue Recognition Standards – presented by Steve Austin – Swenson Advisors
May 2nd, 2018 – Cannabis Appraisal & Financial Management – presented by Ron Seigneur – Seigneur Gustafson LLP
April 26 – Spanish Webinar – Precios de Transferencia en América Latina
March 6, 2018 – The Taxation of Owning Real Estate in the UK presented by Tim Cook – Wilder Coe Ltd.
February 9, 2018 – Topic: Qualified Business Income Deduction – QBID
January 16, 2018 – FASB Update on Nonprofit Accounting Standards(ASU 2016-14)Presented by Bill Sims and Bridget Losa with 

Salmon Sims Thomas & Associates, PLLC

November 13, 2017 – Lease Accounting
Presenters  Steve Austin, CPA   Swenson Advisors, LLP , Marion Adams, Swenson Advisors, Don Mitchell, Cresa and Simon Terry-Lloyd, Cresa         Click here to Download Flyer.
September 28, 2017 – Exit Taxation
Presented by Franz Schweiger, Managing Partner/Director, BF Consulting Wirtschaftsprüfungs GmbH
 
A recap of the best content from the September 2017 International Tax Conference in Malta. Click here to Download Flyer.
June 8, 2017 – Business Valuation – An Intermediate Look
Presented by Don DeGrazia, CPA/ABF/CFF and Kristen Matkowsky, CPA, Gold Gerstein Group LLP2 hours CPEBusiness valuation continues as one of the fastest growing and most lucrative niches for accounting firms. Developing in-house capabilities or working with other Integra members with a valuation skill set can be economically rewarding and diversify the services your firm offers. Join in for our first webinar as two experienced valuators explore the many aspects of valuation. Questions will be taken throughout the presentation. Comprehensive materials will be available to participants.
---
Register for Webinars by contacting our Global Administrator

Laurie Daschuk
Global Administrator and Meeting Planner
Email Laurie Daschuk
+1 604 309 2533 (UTC-08:00)
Vancouver, BC, Canada