Webinars
Integra members around the world can gain professional knowledge and credits through live and recorded webinars.
Featuring International CPA specialist presenters, each practical course is carefully crafted to highlight and discuss the most current and relevant tax information. Registrants can count on taking away multiple action points and detailed source material for future reference.
2017/18 Schedule
Monday, January 16, 2018 – FASB Update on Nonprofit Accounting Standards
(ASU 2016-14)
Presented by Bill Sims and Bridget Losa with Salmon Sims Thomas & Associates, PLLC
The FASB, on August 18, 2016, completed Phase 1 of its nonprofit accounting revision by issuing ASU No. 2016-14, Not-for-Profit Entities (Topic 958): Presentation of Financial Statements of Not-for-Profit Entities.  The FASB says this new guidance simplifies and improves how nonprofit entities classify net assets as well as the information presented in their financial statements and notes about liquidity, financial performance, and cash flows.   We will discuss these changes and how accountants and auditors can assist their clients in implementing these changes.  RSVP to Laurie Daschuk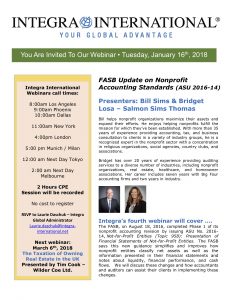 ---
March 6th, 2018 – The Taxation of Owning Real Estate in the UK presented by Tim Cook – Wilder Coe Ltd.
Past Webinar Recordings Are Found in the Integra Interactive Members Only Area
November 13, 2017 – Lease Accounting
Presenters  Steve Austin, CPA   Swenson Advisors, LLP , Marion Adams, Swenson Advisors, Don Mitchell, Cresa and Simon Terry-Lloyd, Cresa         Click here to Download Flyer.
September 28, 2017 – Exit Taxation
Presented by Franz Schweiger, Managing Partner/Director, BF Consulting Wirtschaftsprüfungs GmbH
 
A recap of the best content from the September 2017 International Tax Conference in Malta. Click here to Download Flyer.
June 8, 2017 – Business Valuation – An Intermediate Look
Presented by Don DeGrazia, CPA/ABF/CFF and Kristen Matkowsky, CPA, Gold Gerstein Group LLP2 hours CPEBusiness valuation continues as one of the fastest growing and most lucrative niches for accounting firms. Developing in-house capabilities or working with other Integra members with a valuation skill set can be economically rewarding and diversify the services your firm offers. Join in for our first webinar as two experienced valuators explore the many aspects of valuation. Questions will be taken throughout the presentation. Comprehensive materials will be available to participants.
---
Register for Webinars by contacting our Global Administrator

Laurie Daschuk
Global Administrator and Meeting Planner
Email Laurie Daschuk
+1 604 850 5095 (UTC-08:00)
Vancouver, BC, Canada